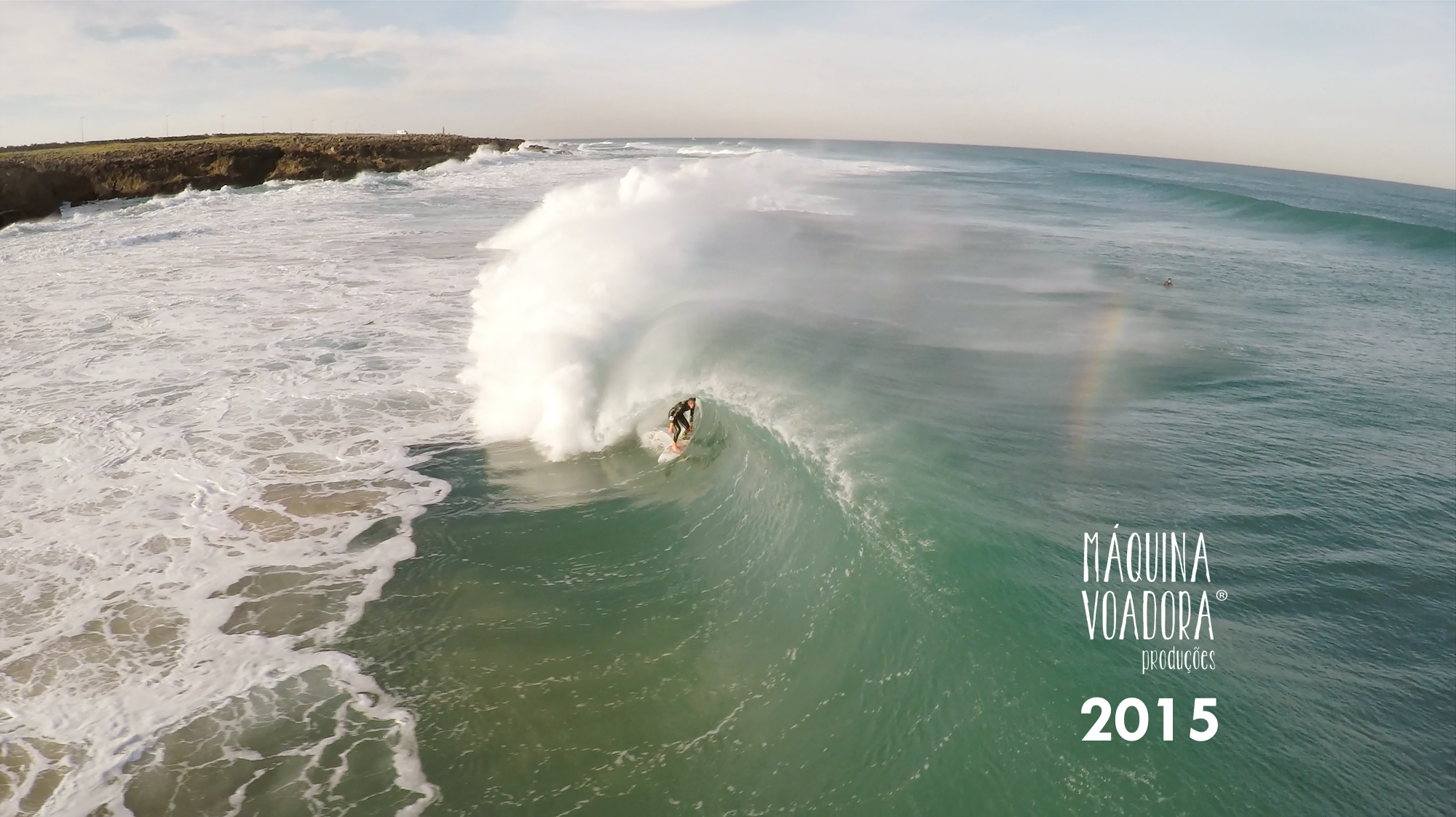 Creating the most viewed Portuguese Surf clip in 2015 was beyond our belief, "The Flying Machine" summed up 157,000 views in just 3 months and was featured around the world on the most important Surf Editorials and General Media. We're still stoked!
Amongst other projects, we've been working closely with our friend and professional surfer
Pedro Boonman
during 2015, Pedro is the right guy for testing and experimentation when our goal is to break the limits of what you can and cannot do with a drone flying (not far) above water. Most of our footage with
Boonman
is still in the vault, but we're really proud of the video we released with him last month.
"That Day in Naza" was a 24 hour exclusive launch with Surfer Magazine, the oldest and most respected surf publication worldwide. After that, the clip went viral and created a lot of buzz, reaching an astonishing 53,000 views in just one month and putting "another kind" of Nazaré on the map. We submitted a short version to MagicSeaWeed's Winter Session video contest, it got to the final 10 shortlist and later to the final 2 videos, going straight to the final, it's now in-play for the chance of winning the 20,000$ grand prize at the end of the winter, fingers crossed!
___
Late last year, Nazaré was maxing out Gigantic in what later became known as "The Big Thursday". Our goal, when we first launched our company one year before, was to be the first drone team ever to shoot a water monster in Nazaré with a drone. We got the shot! We were working with our friend
Sebastian Steudtner
during that Thursday, and Sebastian won the XXL Biggest Wave Award with a wave caught that same day, cheers to him!
We released a single frame of that footage that was featured on the WSL Big Wave Awards, it went viral on the World Surf League's Facebook and caught the attention of our friends at 72&Sunny, they were producing the latest WSL/Samsung's Surf comercial, and that drone angle of the "beast" is now part of what's considered by many as the greatest Surf Comercial of all time: "We are Greater than I" summing up 5 million views and counting.
 ___
It's been a busy year concerning waves and drone experimentation, and it's not all about Stand up Surf, some of the best sessions we had the privilege to shoot, were probably with professional Bodyboarder Tó Cardoso, we call him our "boogie connection". He is surely one of the most hardcore riders of our times, a real waterman and an innovator. One good example is his latest clip: 100% drone footage edited by Semiótica Produções, "From Above" is something that we're really thrilled to be part of.
___
We spent 90% of 2015 flying above water, but once in a while we like to get dirty, mud dirty… And one of those times was a day well spent with
Helder Rodrigues
and his mates from
Yamaha
Racing Team during their preparations for the
Dakar Rally
, resulting on a killer edit by our french friends at
Studio-Ivy
. This is something we want to do more of in 2016, after all, we can't get waves every single day.
___2015 was great in many ways for Máquina Voadora, but its was not all fun and games. There were also some bad moments, we lost a few drones in combat… but when we went down we tried at least to go down in style:
There's many other projects we had the pleasure to be involved in like the
WSL
's
WQS
in Cascais or the
WCT
in Peniche, as well as several projects with our mates at
Boa Onda Produções
including the 
Capitulo Perfeito
event, a lot of cool News Report missions with our friends at
TVI
(TV Station), a crazy 
Red Bull
mission in Ericeira with
Nuno Dias
, a few Documentary Movies that are still to be launched, an ongoing project with bodyboarder and hardcore adventurer
Francisco Horta
 still rolling, among many others.
Thank you to all the amazing people we had the pleasure to work with. 2015 It's been great… from above!
Happy 2016 !
Comments
comments